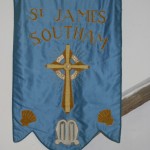 The Mothers' Union is a Christian organisation within the Church of England which works to support and encourage marriage and stable family life.  There are c4 million members in 83 countries.
The Mothers' Union in Southam is a parish-based group who usually meet on the second Thursday of each month to pray, volunteer, fundraise and campaign on a variety of family-based issues.  The group's aim is to keep expanding membership and hold more evening meetings to involve those who are not able to attend in an afternoon to join in.  More information of what is happening across the Coventry Diocese can be found on the Mothers' Union Coventry Diocese website.
It is always particularly pleasing to welcome new members as it gives an indication that Mothers' Union is still a lively growing organisation that has much to offer.  You do not have to be a mother to join and gentlemen are welcomed.  Equally, if you wish to just support a project we will be pleased to hear from you.
Trustee, Treasurer and Branch Co-ordinator: Annie Lane 01926 813075
Branch Secretary: Sam Talbot 07817 848337
2023 Programme
12 January – Annual Lunch at the Bowling Green 12.30pm
9 February – Meeting at 47 St Marys Close 2pm
3 March – World Day of Prayer at the Community Church, Coventry Street 2pm, all welcome
9 March – 'Photo Memorabilia' at St James Church 2pm
11 March – Coffee Morning with raffle, bric-a-brac, and cake sale at Harbury Church Tom Hauley Room 10am – 11.30am
19 March – Mothering Sunday Service at St James Church 10am
13 April – 'Birthdays' at St James Church 2pm
11 May – 'King's Coronation Tea' at St James Church 2pm
8 June – Summer Outing by Minibus, booking required
13 July – 'Summer' hosted by Rose Evans
9 August – Mary Sumner cream tea invite to Harbury church (numbers required)
14 September – Holy Communion followed by AGM at St James Church 10am
12 October – 'God's love' by Sandra Gillard
9 November – 'Oberammergau' by Jenny Thorne hosted by Annie Lane 2pm
14 December – Carol Service at St James Church 2pm